Quito opened the door to "Tababela" its new airport, which is 40 minutes from downtown, offering more modern and complete services.
Quito has a new "Tababela" airport, this unlike the old airport is located away from the city center and; is approximately 40 minutes or 1 hour trip depending on traffic.
The most convenient if you travel alone is to take the buses that make the journey Tababela Airport - Old Airport at a cost of 8usd. The company that makes it Aeroservicios: www.aeroservicios.com.ec I prestanto service leaves every 30 minutes 24 hours a day, plus you get the option to purchase a ticket and use it at any time (not buying the ticket it prints a date or time of departure).
If more than two people traveling perhaps the most convenient option would be to hire a taxi at the airport for about 25usd.
More information http://www.quito.com.ec/index.php/bienvenido/nuevo-aeropuerto/transporte
From the old airport that leaves the AEROSERVICIOS company can take a taxi to the center or for those who want public transportation a few blocks have the "Metrovia" bus service in which we can reach the center of Quito and / or terminal wing bus to leave for Guayaquil and then to Montanita.
Taxis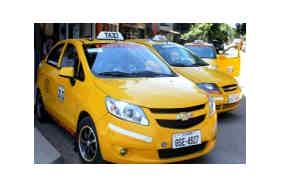 Location: Vicente Rocafuerte / Second Rosales
Phones: 0979142497 ´
Ticket sales to Ecuador: Baños de Agua Santa, Mompiche, Montañita, Quito, Cuenca, Galapagos Peru: Mancora, Piura, Trujillo, Lima, Cuzco, Machu Picchu. Chile: Santiago. Argentina Buenos Aires. Colombia: Cali, Bogota.